09-15-19
Quakertown Kia Service Tips: Manual Seat Height
In this article, our Quakertown Kia Service specialists describe the Manual Seat Height Operation. We at Gateway Kia of Quakertown understand how details to operating new features and technologies can be overwhelming and sometimes confusing. Accordingly, Kia dealers collectively strive to educate customers regardless of the dealership where they purchased the vehicle. Please be sure to ask your Kia representative to demonstrate the Manual Seat Height Operation during your perfect Kia delivery.
---
In our continued efforts to educate our customers, we want you to be familiar with all seat adjustment controls.
Among the many seat operations available, we have customers who request an additional demonstration on manual seat operation because their previous vehicle had power seat controls. If you purchased a Kia vehicle equipped with manual seats, please be sure to request a demonstration on the seat height adjustment. The height adjustment is made with consecutive pulls or pushes on the seat lever until the desired height is reached. Here are some reminders:
To lower the seat cushion, push the lever down repeatedly in a pumping action.
To raise the seat cushion, pull the lever up repeatedly in a pumping action.
More from Gateway Kia Quakertown

Quakertown Kia Service Tips: Center Seat Belt Operation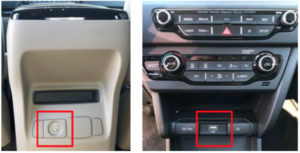 Quakertown Kia Service Tips: Media Device Ports
---