06-22-19
Quakertown Kia Service Tips: Intelligent Variable Transmission
With the recent release of the all-new third generation Forte, it is essential that you are familiar with the new Intelligent Variable Transmission (IVT), which is another successful first for the Kia brand. Look for the IVT feature in other soon to be released Kia models.
In contrast to the widely adapted Continuously Variable Transmission (CVT) used in many of today's vehicles, Kia's IVT is a more sophisticated system that will adjust shift feel according to driver input. At times, shifting may be seamless, and you may not experience a significant RPM drop or 'shift shock' as in a traditional automatic transmission, however when more acceleration is needed, the transmission will provide a conventional shift feel.
Please be sure to ask your Gateway Kia of Quakertown sales or service specialist about this new transmission, and how to change the vehicle's driving dynamics via the Drive Mode feature described below.
The Intelligent Variable Transmission Modes
SMART, NORMAL, and SPORT drive modes (A) may be changed according to the driver's preference or road conditions. To cycle through drive modes, press the DRIVE MODE button (B).
DRIVE MODE FEATURE
NORMAL-Mode: The system's default mode is NORMAL mode and is not displayed on the instrument cluster.
SPORT-Mode: The SPORT indicator will illuminate on the instrument cluster. The transmission shift points and steering feel will be more aggressive.
SMART-Mode: When the SMART mode is activated, the system automatically selects the drive mode best suited to the current driving system (economic, average, aggressive). A SMART indicator will illuminate on the instrument cluster.
Our Gateway Kia of Quakertown PA service experts recommends testing the Intelligent Variable Transmission while at the dealership. The trill of this new transmission experience will excite you and anyone riding with you.
As with all features, Kia recommends you test your vehicle features with a Gateway Kia of Quakertown PA sales representative. Your Quakertown representative is trained to help you navigate through all the features installed in your Kia. Gateway Kia in Quakertown PA practices the "Kia Perfect Delivery Process" to ensure you receive an excellent customer experience.
More from Gateway Kia Quakertown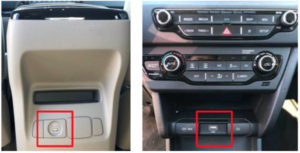 Quakertown Kia Service Tips: Media Device Ports
Quakertown Kia Service Tips: Shift Before Ready
---