10-18-16
Tips for Teaching Teen Drivers
One of the most challenging tasks as a parent or guardian is teaching a teenager how to drive. It can be difficult to allow your teenager to have that much of control, but it's all part of the growing up process. Today we're going to help make the transition a little easier by giving you some teaching tips for when it's time for your teen driver to hit the road.
Kia Motors America and B.R.A.K.E.S. Help with National Teen Driver Safety Week
Kia Motor America has partnered up with B.R.A.K.E.S. (Be Responsible and Keep Everyone Safe) to help teen drivers learn defensive driving techniques. B.R.A.K.E.S. is a non-profit that conducts free defensive driving classes for teens and their parents in cities nationwide. Participating teens and their parents get a hands-on defensive driving education from professional instructors. Kia provides a fleet of more than 44 vehicles for these teaching opportunities.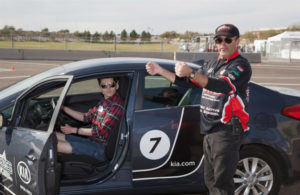 The B.R.A.K.E.S. training process includes these major topics:
Crash Avoidance: How to make split-second decisions to execute quick maneuvering to avoid impact.
Dangers of Distracted Driving: This course helps show how dangerous distractions like texting while driving can be.
Drop Wheel/Off Road Recovery: This course teaches students how to recover when one or more of a vehicle's wheels veers off the road surface and onto the shoulder.
Panic Stop: This teaching course shows how to use proper braking techniques to help stop a vehicle in the shortest distance possible while maintaining control.
Car Control and Recovery: This course simulations wet-road conditions to help students learn how to recover from both oversteer and understeer skids.
Teens who graduate from B.R.A.K.E.S. are about 64 percent less likely to get into a car crash within the first years of driving., which make these a great program to participate in. One of these events is taking place in Englishtown, New Jersey, which is less than two hours away from us here in Quakertown, PA. Click here to learn more! If you are interested in discovering what else Kia has to offer call or visit Gateway Kia of Quakertown today. We will be able to answer any further questions you might have. We can even help you find the perfect pre-owned vehicle your teen driver.
More from Gateway Kia Quakertown
2020 Soul GT-Line
Kia Soul Named Segment Winner in Multimedia Quality
New HabaNiro Concept Car Heats Up NYC
---