08-26-16
How Can You Look Cool in a Minivan?
5 Kia Sedona Specs to up the Coolness Factor
When you think minivan, cool isn't exactly the first thing that comes to mind. Instead of picturing Robert Downey Jr. cruising down the road in his 8-seater blaring "Back In Black" by AC/DC with a model on his arm, you tend to think of a frazzled soccer mom with 3 kids, 2 diaper bags, and way too many cheerios crushed into the seats. However, Minivans don't have to be all function and no fun. Here's 5 Kia Sedona specs to make you say "How cool is this minivan?" and not "Whose apple juice is this?!"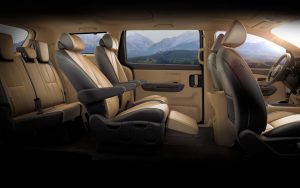 Reclining Seats with a Built-in Ottoman-Maxing and relaxing isn't just for luxury vehicles anymore, with the addition of available reclining seats your passengers can ride in comfort and style. Don't forget to take it a step further and extend the ottoman for those tough days in the carpool lane.
Tech Must Haves-Kia knows you can't be without your devices, so they have installed 8 different available ports for all your electronics including two power outlets and two rapid charging ports. On top of that, the Sedona comes equipped with Infinity premium audio and a glove box that has a feature that can keep drinks cold. Can you say cool?
Power Sliding Doors-Getting in and out of the Sedona has never been easier with the introduction of available power sliding doors. Now with just the push of a button, the Sedona takes the work out of quick exits, making loading and unloading a snap!
Stain-Proof Interior-Minivans were made for multiples, so whether it's a group of 6 year old's headed to a princess party or a group of 66 year old's headed to the golf course, we know there's the potential things could get messy. The Kia Sedona's available interior is crafted with YES Essentials fabric, which repels all stains, odors, and static. So whether that spill is chocolate milk or hot coffee, you know clean up will be a breeze.
UVO Infotainment System-What vehicle would be complete without a little hands-free command? The Sedona has the option of including a search feature powered by Google and a Siri feature compatible with your IPhone, all activated by voice commands. So now when you're rolling up to the newest hot spot in your Kia Sedona, you can command Siri to let your friends know to ready the VIP.
Interested in knowing how the 2016 Kia Sedona could increase your cool? Stop by Gateway Kia of Quakertown, PA for a test drive and see the features in action.
---